Mums in May 2021
"Mums in May"
is an All-Ireland Fund which was established in 2012 in celebration of 125 years of MU in Ireland. The Fund supports new and on-going MU projects throughout Ireland as well as specific important overseas projects. Every third year the MIM Fund is replenished through the efforts of members in Ireland and 2021 will be the fourth occasion when MU fundraising will focus on the Fund.
This year Mums in May challenges members to walk '21 in 21' – this can be 21 yards, 21 laps, 21 furlongs, 21 kilometres, 21 miles or 21 something else……… knit, sew, bake …. let your imagination run wild…… Or you can think about walking 21 of your chosen lengths virtually and ask friends and family to support you.
A "JUST GIVING PAGE" has been set up for the "21 in 21" initiative, so friends and family can easily sponsor June's walking extravaganza or any other member's challenge.
Just click on the calendar to bring you to the website to donate.
June Butler begins her Walk for "Mums in May"
Wednesday 24th March 2021
June Butler, the All Ireland President, began her "21 in 21" walks today on her own home turf. In line with government regulations, she was accompanied only by the Branch Leader from Saintfield Parish, Marion Edwards, and they were sent on their way from the grounds of Saintfield Parish Church with prayers and good wishes from the Diocesan Chaplain, Rev Gerald Macartney, his wife Roberta, Diocesan President, and the Vicar of Saintfield the Rev Chris Pollock - all socially distanced of course.
Marion and June walked 7.8 kms around the periphery of the village and through Rowallane Gardens (with a short stop for a picnic lunch), finishing back at the parish church - in pouring rain - with around 15.000 steps on the "clock". June said it was a great way to start her "21 in 21" journey in familiar territory with one of her greatest - and oldest - MU friends!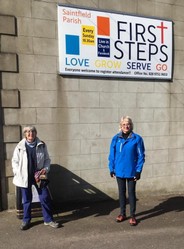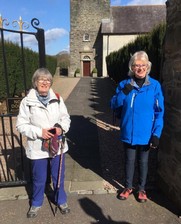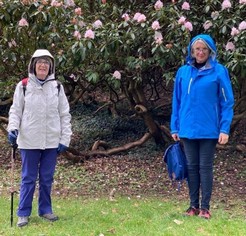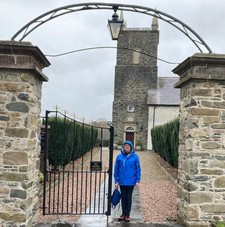 On her second MIM walk on Saturday 27 March, June followed the towpath of the former Newry Portadown Canal from Scarva to Poyntzpass on a chilly but dry morning. Some of the Diocesan Trustees were there to see her off and there were also two clergy , the Diocesan Chaplain, Rev'd Gerald Macartney, and Rev'd Rodney Magennis, Diocesan Curate for the local parishes, who offered very meaningful prayers for the walk and for the success of the MIM appeal.
Diocesan President Roberta accompanied June on the first leg, with Marion Edwards and Phyllis Burrell walking at an acceptable distance behind. The route was flat and interesting, passing Acton Lake/Lough Shark which is a haven for wildlife. The group saw a bevy of swans descending from a hillside on to the lake- a magnificent sight! There was also a heron intent on its prey.
At Poynyzpass June and Marion were joined by Rev'd Gerald for the return walk back - again of course socially distanced. Going in the opposite direction the path looked completely different - this time the canal and the lake were to the right. On the return to Scarva, the step meter recorded exactly 7km with 13,500 steps. Roberta had travelled back by car and was waiting with a lovely picnic lunch which she had kindly prepared.