Tree Planting ~ Derry & Raphoe
The All-Ireland President of Mothers' Union, June Butler, joined Diocesan President, Jacqui Armstrong, and members of the Derry and Raphoe Mothers' Union at a tree-planting ceremony on the outskirts of Londonderry on Thursday, to mark the Queen's forthcoming platinum jubilee.
The women were greeted by blue skies and glorious sunshine as they gathered at Brackfield Wood, which skirts the River Faughan, just off the main Derry to Belfast Road near Killaloo. The area has been earmarked by the Woodland Trust for the cultivation of a centenary wood, and will eventually include 40,000 native trees commemorating soldiers who lost their lives during the First World War.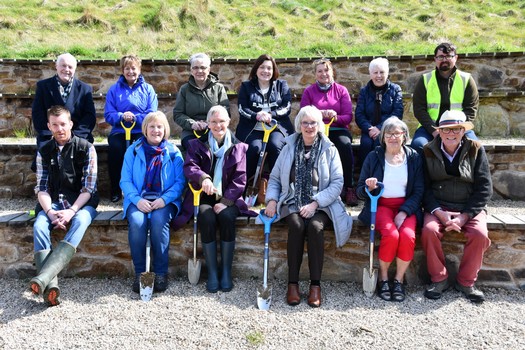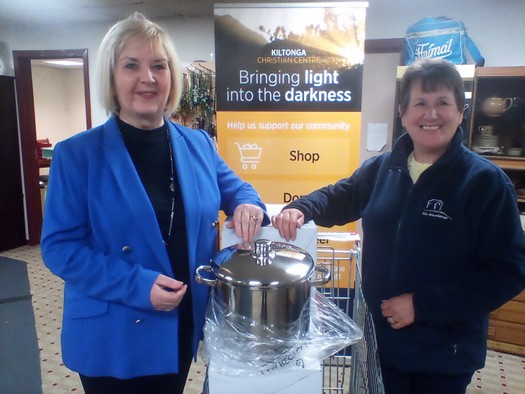 Stockpots for Refugees
Clare Stewart, Action & Outreach Coordinator, has been exploring how best the
Diocese of Down & Dromore
could help support refugee families. She was advised that the Kiltonga Christian Centre work with Government Departments and other charities to supply items needed by refugee families and asylum seekers across Northern Ireland. Helen Sloan, the manager of the Kiltonga Centre, during a meeting with Clare highlighted the need for large stockpots. Helen explained that the cultural norm for many refugee families is to cook family meals in one large pot.
In recognition that mothers want to nurture and feed their families the best way they know how, Down and Dromore Trustees agreed to the purchase of large stockpots which Clare delivered to Helen Sloan on 4 May 2022.
A large number of members from Cashel, Ferns and Ossory and friends enjoyed a lovely afternoon in Rathwood on Friday 3rd June. They enjoyed a delicious "Afternoon Tea" and it was a wonderful occasion for everyone to meet up for a chat too. The afternoon was organised by the Diocesan President, Lesley Bayley, not only to celebrate the Platinum Jublilee of our Patron, Her Majesty Queen Elizabeth 2, but also to raise much needed funds for our Diocesan Projects.
The Diocese has also been busy providing much needed support to a Ukranian family who are being rehoused in Enniscorthy. Members have also been knitting and sewing fiddle sleeves and blankets at the request of a nursing home in Kilkenny. These are used with patients who are suffering from dementia and a request came to Mothers' Union to see if we could provide a supply for patients in the nursing home.
100th Birthday Congratulations
Jean Jackson, a member of Killowen Mothers' Union, Derry and Raphoe Diocese, celebrated her 100th birthday on 22nd July 2022. To honour Jean and celebrate this auspicious occasion, members of Killowen Mothers' Union arranged an afternoon tea at Woodbank House in Garvagh. Judging by Jean's smile she had a wonderful afternoon. She is a regular attender at church and still attends many of the Mothers' Union meetings.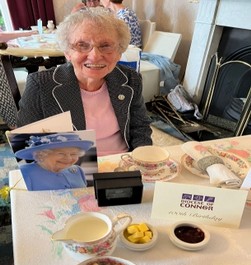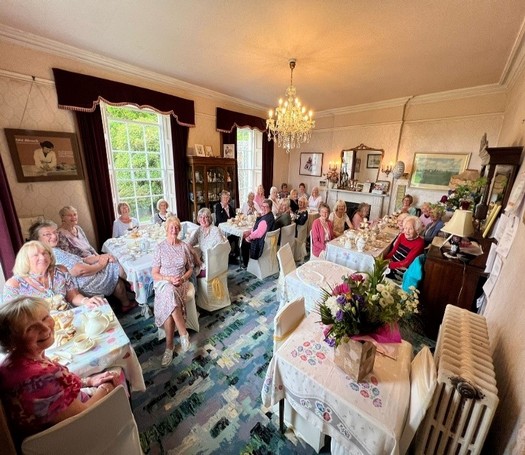 Ploughing Championships 2022
Ploughing Championships 2022 took place in Ratheniska, Co Laois, from 20th to 22nd September. Mothers' Union, yet again, provided the greatly appreciated facility where parents and guardians could come and feed/change their baby/toddler. Parents are delighted to have a lovely clean, safe environment in which to change and feed their child and the volunteers were kept very busy over the three days, keeping everywhere clean and ready for the next family using the facility. We were delighted to welcome Máiréad McGuinness, MEP, to the tent on the final day and she was very impressed with the service provided by Mothers' Union and she also praised the work Mothers' Union does in highlighting the scourge of Domestic Violence. Linda Ward presented Máiréad with a copy of the MU Prayer Book "Dear Lord" and a copy of the cookbook "Mums Marvellous Meals".
We are very grateful to all those members who volunteer so that this wonderful service can be provided at the Ploughing.
Mothers' Union Annual Gathering 2022
The 2022 Annual Gathering took place on Saturday 24th September in the ICC, Waterfront Hall, Belfast. Two services took place on the previous day in St. Anne's Cathedral, Belfast. The celebrant for the service was Right Revd. George Davison, Bishop of Connor. The guest choir was Kerygma with their musical director, Lorna Palmer and the organist was Neale Agnew. During the service there was an act of rememberance for her Majesty Queen Elizabeth who was Patron of Mothers' Union. The Right Revd. Andrew Forster, Bisop of Derry and Raphoe, gave a very thought provoking sermon at both services.
On the following day we met in the Waterfront for the Annual Gathering during which there were several presentations:
Showcasing the work of Mothers' Union in Ireland ~ June Butler & Iris Suitor ~ Click on the link below to view the video that was shown during their presentation.
Updates from Mary Sumner House ~ Adam Sach, Richard Millar, Robert Daws & Bev Jullien
A report on various projects throughout Great Britain ~ Bishop Emma Ineson, MU Central Chaplain, Bev Jullien, Deb Lee, Steph Nunn, Alison Fernandes and Kim Darby
There was also a virtual address and presentations from the Worldwide President, Sheran Harper.
Midday Worship was led by the Archbishop of Armagh, The Most Revd. John McDowell, and the closing prayer by the Bishop of Connor,
Right Revd. George Davison
Click on the links below to watch recordings of both the morning and afternoon session.
On the Saturday evening there was a very successful and enjoyable concert featuring Clare Chorale.
Mothers' Union Getaway 2022
Our MU getaway this year was on the 4
th and 5th November
in the Springfield Hotel in Leixlip. The event was organised by the All Ireland Reps Liz Greer and Wendy Halligan. The getaway was opened by June Butler, All Ireland President. June welcomed all attendees to the event and introduced our guest speaker Worldwide President, Sheran Harper. On Friday evening we all enjoyed a delicious meal followed by several fun games at our tables.
On Saturday morning Sheran gave an inspirational talk on the MU theme for 2022 "Transformation Now". We need to transform ourselves, personally and spiritually to live out our faith, to transform our churches and communities and to transform MU to be relevant for the 21
st
century. We discussed the various challenges along the way.
Sheran said that MU members showed great resilience, responsiveness and adaptability throughout the pandemic and now is the time to build on this experience. Sheran presented medals to all the DP's in Ireland and prayed with each of them as she put the medal around their neck, this was a very special and moving occasion for all present. Also on Saturday, Wendy and Liz shared an activity on prayer and reflection. Before the getaway closed, we enjoyed a demonstration by African dancers Sharon and Deborah who are also MU members. Sharon began by explaining the different items of MU uniform that are worn by the members in Africa before both ladies showed us the very energetic way they dance whilst singing at their meetings!
The getaway was a wonderful opportunity for the members to enjoy a little "me time" in our busy lives. The Springfield Hotel proved to be a wonderful venue, with great food and also a very relaxing atmosphere. Everyone commented on how much they enjoyed reconnecting with old friends and making new ones. There was a great sense of fun and fellowship throughout our time away. A huge thanks to June, All Ireland President, Iris Suitor, All Ireland Zonal Trustee, Hazel Speares, VP Action and Outreach, and Ada Lawson, DP Dublin and Glendalough for their support, and valued expertise along the way to make this event happen. Thanks to Dublin and Glendalough for providing the MUe stall on Saturday morning and to Margaret Jacob for having MU resources available. It was great to see our attendees enjoying themselves and going home enthused and energised about Mothers' Union.
Save the date for our 2023 getaway. Venue
Hotel Kilmore, Cavan
which is in the Diocese of Kilmore, Elphin and Ardagh on the
6th and 7th October 2023.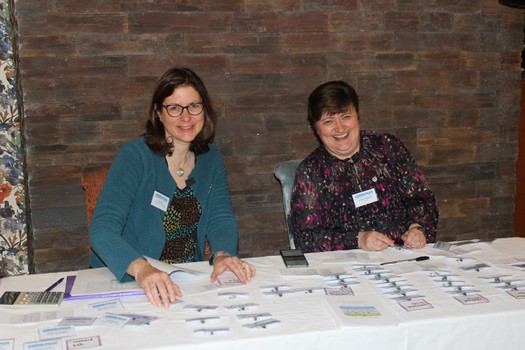 Getaway Weekend in Garryvoe
11th – 13th November 2022
Cork, Cloyne and Ross
What a wonderful Getaway Weekend we had in Garryvoe Hotel in East Cork and what a blessing our time there was to all who came. In total about 55 people gathered to enjoy fellowship (there was some catching up to do after three years), relaxation and fun with workshops, free time and excellent food, and spiritual nourishment with three wonderful people speaking to us over the course of the weekend.
Rev Isobel, our Diocesan Chaplain, shared her faith and life story, which was so interesting and encouraging. How good it is to look back at what God has done in our lives – sometimes we don't see things at the time but in hindsight can really recognise how He has led us all the way. Isobel also led our worship on Saturday morning on the theme of transformation.
Our guest speaker on Saturday was Bishop Richard Clarke. It is hard to fully convey the both encouraging and challenging message he brought us in two sessions; the first on transformation of ourselves as individuals, and how transformation always involves change of some sort, and often, if not always, a change in mindset. He quoted Catherine of Sienna's words "Be who God meant to be and you will set the world on fire." We were challenged to allow Jesus to move us from the shallow waters to deeper waters, just as he said to Simon Peter in Luke 5 – "Put out into deep water…….". He spoke of the importance of being willing to take risks, to 'move' to places that may feel more uncertain and scary, places in which Jesus can help us to become who God means us to be, places where we can make a difference in this world.
In the second session Richard spoke to us as Mothers' Union members and as an institution. His main message was about how Mothers' Union is respected and valued by many, both inside and outside the church, and that this good reputation puts us in a unique position, one where we can speak with integrity and moral authority. He said that, in his years of ministry, Mothers' Union members have often asked 'What can we do to help the church?' He is suggesting that we now must look at how we can take the lead and tell the church what it should be doing when it comes to injustice and the many challenges we face in society such as domestic violence and poverty. Mothers' Union can advocate for others with authenticity; it will take courage, but this call, to be like a stone in a shoe that makes a person uncomfortable, to be like a tiny piece of grit that can cause a machine to grind to a halt, is one we must take seriously. May we have wisdom and be led by God's Spirit as we look for ways to do this. May Mothers' Union also be "who God means it to be and set the world on fire."
On Sunday morning Rev Eileen Cremin both led and preached at our Service of Holy Communion, which incorporated both the themes of Remembrance and Transformation.
A big thank you to everyone who made the weekend possible; we are grateful for God's presence with us and pray that the outworking of our time together will reach into many corners of Cork and beyond.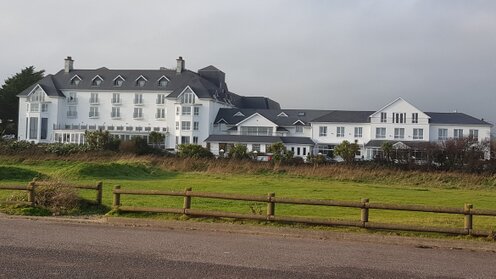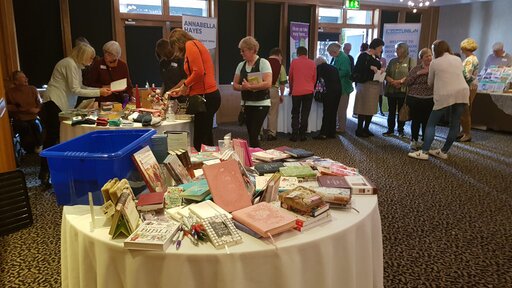 Two Awards for Mothers' Union All-Ireland
Two plaques were presented to Mothers' Union All-Ireland at a recent service in St. Macartin's Cathedral, in Enniskillen by Mrs Sheran Harper, the Worldwide President of Mothers' Union.
One of the plaques was presented to Mrs June Butler, All-Ireland President, in appreciation of the exceptional work and faithful commitment to Mothers' Union by Mothers' Union in the Province of Ireland.
The second award was presented to Mothers' Union in the Province of All-Ireland in appreciation of our exceptional work in combatting gender-based violence through advocacy, prayer and practical matters. The award was accepted by Mrs Jacqui Armstrong who takes the lead for All-Ireland in this campaign.