Welcome to our new ALL-IRELAND Mothers' Union website
To access all of the pages click on the menu bar
Find all the latest news on the scrolling section of the "Home Page" or on our

BLOG

section.
Just hold your mouse over any of the scrolling sections to stop them.
Mothers' Union is an international Christian charity that seeks to support families of all faiths and none through practical outreach, prayer and advocating family friendly policies within both government and public life. By supporting marriage and family life, especially through times of adversity, we tackle the most urgent needs challenging relationships and communities.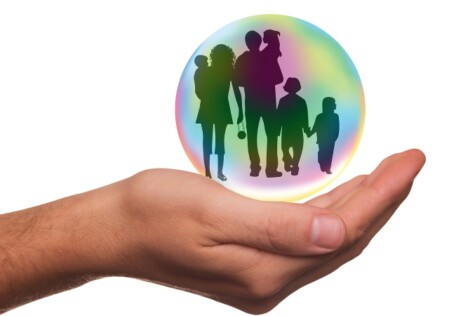 Our members are not all mothers, or even all women, but are single, married, parents, grandparents or young adults who are just beginning to express their social conscience. For all 4.1 million members in 83 countries what Mothers' Union provides is a network through which they can serve Christ in their own community through prayer, financial support and actively working at grassroots level in programmes that meet local needs.




CONTACT DETAILS:
The Administrative Officer

The Mothers' Union Office

St. Michan's Church

Church Street

Dublin 7




Tel: +353 1 873 5075




Public Group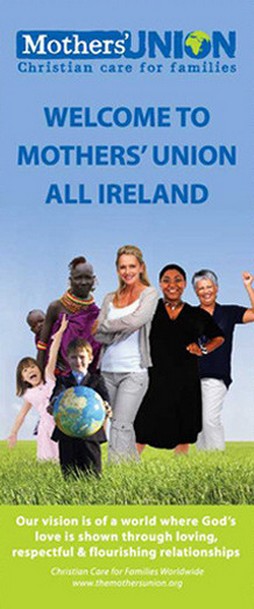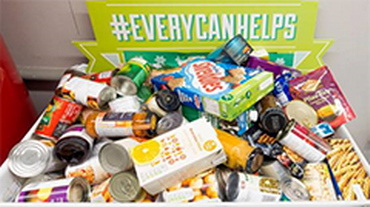 FOOD, a basic necessity for all of us and during the current crisis we all want to do our best to ensure we provide for our families.

Unfortunately, not all families can afford to stock up in case of emergency, in fact for 1000s of families across Ireland, north and south, daily food poverty is a harsh reality.

Breakfast clubs and free school meals, where they are available, are a lifeline for many of these families.

However with the closure of schools and colleges in the South and the likelihood that Northern Ireland will follow suit these families have been plunged into a totally unexpected crisis. They need our help now more than ever!

How can you help? Keep donating to community food banks; help local initiatives in your area to distribute food packages to those in need or if you can't find such an initiative in your area maybe consider starting one!
When we all find ourselves facing the unknown, the smallest act of kindness can mean the world to someone in despair.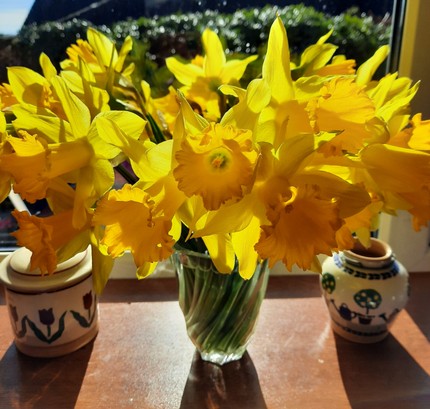 Prayers for April 2021
E
is for everyone who comes to share this special day
A
is for the ascension we celebrate today
S
is for the Spring that brings the world new life
T
is for the table around which we sit to pray
E
is for everyone who comes to share this special day
R
is for the roads we travel on the way
Creator God, in the beauty of Spring, we witness again and again your creative hand at work.
As the earth reawakens after the dark days of Winter, help us to be renewed in our passion for you.
As the first crocus breaks through the winter-hardened earth, so your Son broke through the darkness of this world to bring us light and hope.
As we bathe in the warmth of the early Spring sunshine, may we feel the warmth of your love and radiate it to others.
In your name we pray.
Amen
Author Unknown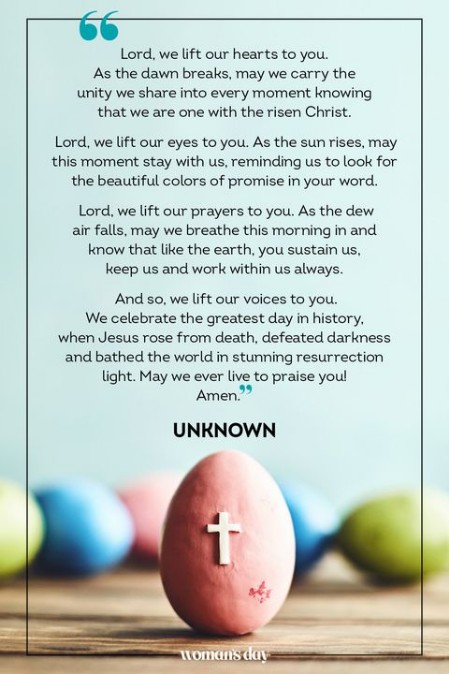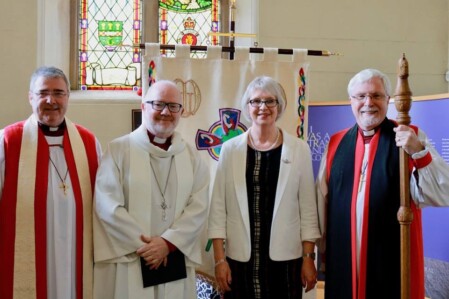 Commissioning of June Butler

All-Ireland President Mothers' Union

Letter from June ~ All-Ireland President ~ April 2021
Hello members of Mothers' Union and friends
How has "Lent in Lockdown" been for you? It has been another first in this strange year and I wonder if you have managed to hold to those good intentions you planned from Ash Wednesday?
I read somewhere that one shouldn't focus on what to "give up" during Lent but rather on the positive things you decide to do during the forty days. In my parish we have been following a 40/40 challenge - each of us committing to collect 40 items (one each day) to contribute to a foodbank in East Belfast which we have been supporting for several years. From what I have already heard from several parishioners, those concerned with transporting the goods to the foodbank this week are going to need a lorry!
Real food poverty is one of the consequences of the pandemic and one area on which I am focussing at present in several spheres, including Mothers' Union. Several of our dioceses have decided to give out food vouchers as part of their outreach to families in need - normally these funds would go towards giving short breaks to families (AFIA) and, as we aren't permitted to travel at present, excellent use is being made of these funds by MU. Also some members are working in foodbanks and with projects to address the nutritional needs of children while they are not attending school. I have no doubt that food poverty will become a crisis as more people become unemployed and we, as a Christian, family-oriented charity, need to think of a range of ways that we might help.
I will get off my "soapbox" now and return to my reflections on Lent 2021. While, on the one hand, we haven't been able to attend in person the usual services, technology has allowed us to participate in a wider variety of Lenten events - reflections and services, podcasts and YouTube recordings, Facebook links and zoom services - things we wouldn't have imagined a few years ago. Mothers' Union in Ireland has just created its own YouTube channel so that we can share our events without overburdening our website. When you have time please have a look - it is called
"Mothers' Union All-Ireland".
https://www.youtube.com/channel/UCiFcIKrLtKyVLKKHOhH0pFA
My Lenten journey has been like the proverbial "curate's egg" - great in parts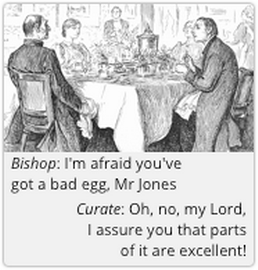 …while other parts less so. Besides an enormous volume of meetings wearing several different "hats", I have spent many long hours at my computer "attending", as a Mothers' Union delegate, sessions of the United Nations Commission on the Status of Women which ran virtually for two weeks from 15 March. I have continued to learn much about the trials faced by women worldwide - especially harrowing were the sessions concentrating on Gender Based Violence and how that pandemic has been exacerbated - worldwide - by the restraints imposed by the Covid-19 pandemic. There were many sessions too on how women need the skills to be empowered to deal with everyday situations across our world. All very enlightening but, as I have attended UNCSW twice as a MU delegate, I found it very restrictive listening only on a screen - unable to network with like-minded people and, especially, unable to ask questions related to the sessions.
The good parts of Lent for me were the ease of being able to listen to a variety of services and reflections from the comfort of my home and, with the warmer weather (or rather lack of snow!), the ability to get outside, to enjoy the beginning of spring in my garden, and also to walk - and to appreciate God's gifts surrounding us in our land. I have watched daffodils and crocuses burst into flower as I walk past them daily and buds form on shrubs ready to do likewise in the coming weeks. And the little lambs are just so cute!
Of course I have been taking longer walks than usual - in "training" for my personal Mums in May 21 challenge of walking 21 kms in every diocese this year. In the past week I have started my journey, because of the Covid restrictions beginning in my own diocese of Down and Dromore; you can read about that elsewhere on this website. I am really looking forward to meeting many members as I traverse the dioceses in Ireland - and also hoping and praying that we will be permitted to travel across the island before too long.
As you will read in "Focus" the Mums in May 21 challenge isn't confined to walking. We really do need to boost our MIM funds this year in order to continue to make grants to MU projects in Ireland, so I am asking all members not only to support my 21km walks and those who walk with me, but to take on their own challenges and get sponsorship for activities relating to the number 21 - baking 21 cakes, walking 21 laps, reading 21 books (or chapters of the Bible), knitting 21 prayer squares, taking 21 photographs, swimming 21 lengths…. Whatever their skill may be! A sponsor card will be made available on the website or from branches or anyone can donate on-line though our "Just Giving" page. Also, of course, we will be having a "Count Your Blessings" calendar for the month of May and that is also available from the website - but more of that next month!
I will finish by commending to you the reflection prepared for our members this Easter by our All-Ireland Chaplain. In it Canon Robert touched me particularly by referring to the boulders which can weigh us down and even bury us. So many of us have encountered such boulders during this past year. However, with the resurrection of our Lord, these boulders will be rolled back to set us free - we can enjoy new life.
I am certain that this Easter, with the hope given by our Lord, we will all find a path leading us away from any boulders which may have been impeding or even burying us. Remember the words we read in

Jeremiah 29:11
"For I know the plans I have for you," declares the Lord, "plans to prosper you and not to harm you, plans to give you hope and a future."

May I wish you hope, joy and every blessing this Easter - and beyond.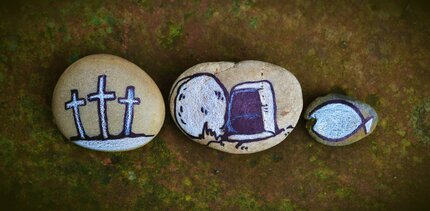 A reflection for Easter 2021
The disciples of Jesus endured a wide range of emotions surrounding the tragic events of the week we call Holy Week, culminating with the horror of Good Friday … when Jesus suffered dreadfully, was crucified, had died and been buried in a tomb, which then was closed with a large boulder and its entrance sealed. It really did seem "That was that" … that "That's an end to it".
But it wasn't … … for on the third day, very early on that Sunday morning, something truly amazing happened … … something more wonderful than turning water into wine, or feeding 5000 … … something more awesome than even raising Lazarus to back to life (awesome though that had been!!) … … for on that first Easter morning, God raised Jesus Christ from the dead … … not like Lazarus had been raised, back to this life and existence … … but raised Jesus to the Divine Life … … to God's Life! … … what we call Eternal Life! And at a stroke, all "past historical normality" was altered, and all was re-shaped into a "new present future". Nothing would ever be the same again.
And because of the Resurrection and that nothing would ever be the same again, we are invited to look at life in all its forms from an entirely new perspective … … from God's perspective … … a perspective that goes way beyond the limitations of this world or human comprehension.
For the Good News is that, by God's good grace and awesome action, "boulders", which might have had the capacity to weigh us down and bury us (sometimes in tombs of our own making!) can be rolled back … we too can be set free … we too can enjoy new Life … His Life! … because God is in charge. It's His world, and He has re-breathed His Eternity into all life.
Thanks be to God for His gift of His Life within us … … through which, if we allow ourselves to be open to the prompting of the risen Lord, we too may be sent out to proclaim the Good News of his love, just like those first disciples!
Easter announces there's a way forward out of inhibiting darkness … that God's transformation of life to Life is possible and worth living … that there can be a re-building of hope and confidence.
Now, doesn't that make Easter the greatest of all the celebrations in the Christian year, and makes it especially "Good News" this year?
God our Father, we thank you for the joy of Easter.
May all who celebrate the resurrection of your Son
experience your love and power in their lives,
through the same, your Son, Jesus Christ, our Lord. Amen.
Almighty God, you have promised through your Son Jesus Christ to hear us when we pray in faith … …
Strengthen your Church and all who minister in the service of Christ, that those who confess your name may re-build hope and confidence, be united in your truth, live together in your love, and reveal your glory in the world.
Bless, guide and give wisdom to all in positions of authority and responsibility, and direct all nations in ways of justice and of peace, that all may honour one another and seek the common good.
Give grace to us, our families, our friends, and all our neighbours, that we may serve Christ in one another, and love as he loves us.
Be a tower of strength and support to those who are unemployed and those who face financial hardship, and enable us to stand alongside each other.
hear our prayer.
Comfort and heal all who suffer in body, mind or spirit, especially those who suffer as a result of the Covid-19 pandemic: give hope and courage to all in their troubles, and bring them to the joy of your salvation.
hear our prayer.
May your supportive and loving presence be felt by all who are bereaved. Hear us as we remember Mothers' Union members who have died in the faith of Christ. We also remember those near and dear to us. According to your promises, grant us to share with them in your eternal kingdom.
hear our prayer.
Rejoicing in the fellowship of all your saints,
we commend ourselves and the whole of creation to your unfailing love.
accept these our prayers for the sake of your Son,
our Saviour Jesus Christ. Amen.
God the Father, by whose glory Christ was raised from the dead, raise you up to walk with him in the newness of his risen life:
and the blessing of God almighty, the Father, the Son and the Holy Spirit, be with you and your loved ones, now and always. Amen.
(Canon Robert Deane, MU All Ireland Chaplain)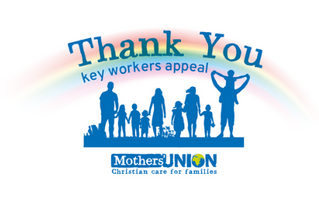 Click on the image above to find more information
about this initiative
(The Scheme is available for key workers in the United Kingdom
and Ireland)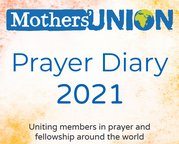 Click on the image above to download the
Mothers' Union Prayer Diary
for 2021
Click on the image above to download a flyer
with details of Mums in May 2021
RESOURCES
For lots of Resources on the main website click on the link below
Mums in May Fundraiser 2021
Follow the events for our Triennial Fundraiser for "Mums in May" 2021 on our dedicated page. Please support this fundraiser which raises money to support some wonderful projects in every Diocese throughout Ireland.
Click on the image below to bring you to the webpage.
The Big Give

Christmas Challenge 2020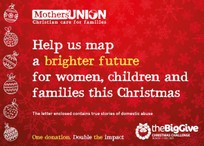 Over seven days at the beginning of December 2020 we raised an incredible £66,400 via the Big Give website.

However, this does not have to be the end of the doubling. If you have not yet had the opportunity to give, there is still time to support our work in the DRC and help us to double our project reach. Although your generous gift will not be doubled, it will still help transform a life.
Latest update ~Together, we now have raised an incredible £124,885 making Christmas 2020 a truly special one for women in the Democratic Republic of Congo (DRC). Click on the image abpve for more information.

All-Ireland Mothers' Union have organised another competition to inspire our members creativity.
This time we would like members to write a hymn which may be sung to a "well known" tune or write a prayer.
Click on the image to download a poster with all of the details.
Rebuilding Hope & Confidence ~ Living with Covid-19
Well done to Liz Greer, Wendy Halligan and all those involved in organising a wonderful morning on Sturday 6th February. Those who were able to join the ZOOM breakfast enjoyed listening to two wonderful spakers,
Lydia Monds who is the Education Advisor to the Bishops' Appeal and Karen Gray who is an eco-trauma therapist combining therapy and nature.
96 participants enjoyed an inspiring morning of information and fellowship.
The event was recorded and you can watch it by clicking on the link on our Home Page.
Mothers' Union during Lockdown
All Mothers' Union meetings and services have had to be put on hold due to the restrictions imposed on movements with Covid-19. Mothers' Union members and Branches , however, have not been idle and many have been busy sewing scrubs and masks, organising food parcels and finding new inovative ways of keeping in touch with each other and helping those in isolation.
Dioceses have held zoom meetings, recorded festival services and many Branches have used various forms of technology and media to keep in touch with members.
Click on the image to read all about an initiative in which Down & Dromore was involved ~
Mini Bootcamp and Lunch Giveaway in Cregagh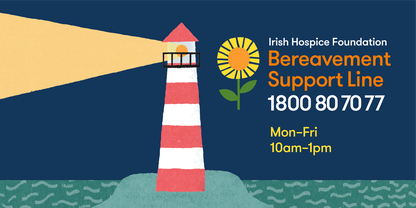 1800 80 70 77
It is available from 10am to 1pm, Monday to Friday.
Many people have experienced and will experience the death of someone they love during the COVID-19 pandemic. It may have been a COVID-related death or a death from other causes. People may also be finding a previous bereavement more difficult at this time. While we may be seeing reductions in the number of deaths connected to COVID-19, we know that people's pain and grief does not diminish as quickly. In the face of such loss and trauma, the Irish Hospice Foundation Bereavement Support Line, in partnership with the HSE, has been launched to provide connection, comfort and support in these exceptional times. COVID-19 restrictions have changed the traditional ways we mark our grief. For the moment, it is not possible to come together as we did traditionally, resulting in additional challenges for those who are bereaved.
Click on the images to download a poster and information sheet & leaflet:
From: Canon Robert Deane, MU All-Ireland Chaplain
Intercessory Prayer in the midst of the on-going Covid-19 pandemic
(adapted from the Luthern Federation of Churches)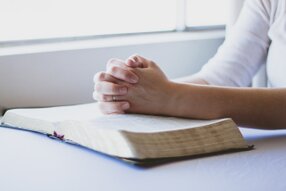 Show your compassion for the whole human family now in turmoil and burdened with illness and with fear.
and listen to our prayer.
Come to our aid as the coronavirus spreads globally; heal those who are sick, and support & protect their families and friends from being infected.
and listen to our prayer.
Grant us your spirit of love and self-discipline, that observing medical advice to personally vigilant, we may work together to control and eliminate the coronavirus.
and listen to our prayer.
Make us vigilant, attentive, and proactive in the eradication of all diseases that create suffering and often result in death for many people.
and listen to our prayer.
Heal us of self-centeredness and indifference that makes us worry only when the virus threatens us, and open ways beyond timidity and fear that too easily ignore our neighbour.
and listen to our prayer.
Strengthen and encourage all who work in public health services and in the medical profession: care-givers, nurses, attendants, doctors, and all who commit themselves to caring for the sick and their families.
and listen to our prayer.
Inspire and give insight, perseverance and hope to all researchers focused on developing successful vaccines.
and listen to our prayer.
Sustain all workers and business owners who suffer loss of livelihood due to shut-downs, quarantines, closed borders, and other restrictions … protect and guard all whose work is essential and who must travel.
and listen to our prayer.
Guide all leaders of nations that they may speak truth, halt the spread of misinformation and act with justice, that all people may know healing.
and listen to our prayer.
Heal our world, heal our bodies, strengthen our hearts and our minds, and in the midst of turmoil, give us hope and peace.
and listen to our prayer.
Hold in your gentle embrace all who have died and are now at rest. Comfort their loved ones in their grief and despair.
and listen to our prayer.
walk in hope and be renewed in love,
until the world reflects your glory
Even so, come Lord Jesus. Amen.
The Mothers' Union Prayer
Loving Lord,
We thank you for your love so freely given to us all.
We pray for families around the world.
Bless the work of the Mothers' Union
as we seek to share your love
through the encouragement, strengthening and support of marriage and family life.
Empowered by your Spirit, may we be united in prayer and worship,
and in love and service reach out as your hands across the world.
In Jesus' name.
Amen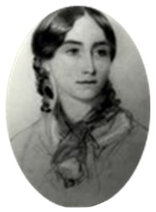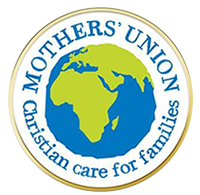 Written in 1876 by Mothers' Union founder, Mary Sumner

All this day, O Lord,
let me touch as many lives as possible for thee;
and every life I touch, do thou by thy spirit quicken,
whether through the word I speak,
the prayer I breathe,
or the life I live.
Amen.
Reference and administrative information

Republic of Ireland:
Mothers' Union in Ireland is recognised as a Charity by the Revenue commissioners, 5161.
Registered charity number- 20007331 (Charities Regulatory Authority).


Northern Ireland:
Not registered with The Charity Commission NI as a single entity.
Instead individual diocese have been registered separately.